CBC BITCH CAN'T UNDERSTAND NEGRO
It's hilarious when the CBC bitch says to the Ugandan Negro,  "I'm sorry, I don't, I don't understand what you're saying."
As It Happens, 2014.02.24:
"Ugandan president signs anti-gay law allowing life sentences"

http://www.cbc.ca/asithappens/features/2014/02/24/ugandan-president-signs-anti-gay-law-allowing-life-sentences/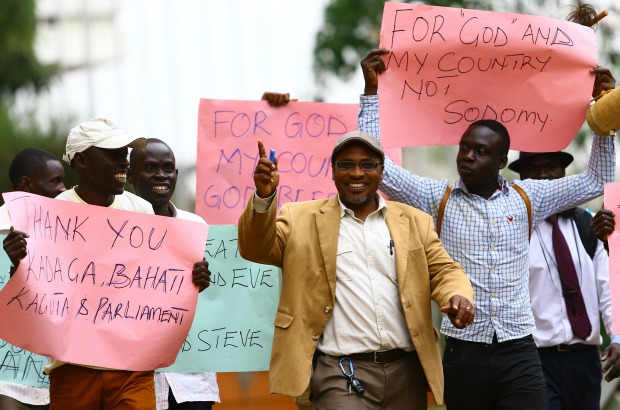 [...]

CBC Bitch: [...] life sentences for people guilty of 'aggravated homosexuality'.

[...]

CBC Bitch: How can you justify calling people 'criminals' and sending them to jail for being gay?

Ugandan Ethics & Integrity Minister: Because they have destructive to society. The damage that these practice causes to the community, especially to the minors, the small children, whose lives get completely shut up, forever, because they can no longer be able to behave and conform to the laws of nature as they would.

CBC Bitch: I'm sorry, I don't, I don't understand what you're saying there, sir. How does this effect children?

Ugandan Ethics & Integrity Minister: These people always pick small children, below the age of sixteen, and they use them for practicizing their ugly things. Do you know that in a school, a primary school in Mbale sixty children were sodomized by a single teacher?

CBC Bitch: You're not saying that all homosexuals are pedophiles, are you?

Ugandan Ethics & Integrity Minister: Whatever you want to call them. For us they are outlawed, and they are not acceptable practice in Uganda. In fact, in my own personal culture and tribe, these people would be just killed there and then, if found jumping and sodomizing same sex.

[...]
Carol Off has been a host of CBC Radio's "As It Happens" since 2006. She also hosted the political debate series counterSpin on CBC Newsworld. She is the vice-president of Canadian Journalists for Free Expression. She was awarded ACTRA's John Drainie Award in 2008, for "distinguished contributions to Canadian broadcasting." She has also written several books on the Canadian military, including
The Lion, the Fox, and the Eagle
and
The Ghosts of Medak Pocket: the Story of Canada's Secret War
. In 2006, she released a book, Bitter Chocolate, about the corruption and human rights abuses associated with the cocoa industry. She claimed that French-Canadian journalist Guy-André Kieffer, who was kidnapped in Abidjan, Côte d'Ivoire in 2004, had been murdered for exposing Ivorian government corruption in connection with cocoa.
As It Happens: It Gets Worse! 2014.02.24

Oldest known holocaust survivor dies aged 110. Concert pianist Alice Herz-Sommer was sent to the Theresienstadt concentration camp when she was 39. And she used her music to survive. Ms Herz-Sommer died on Sunday aged 110. Canadian producer Frederic Bohbot has made an Oscar nominated short film about... [Listen 8:53]

It Gets Worse!: Uganda Gay Laws, Arizona Gay Laws, Harold Ramis Remembered

Ugandan president signs anti-gay law allowing life sentences: Being gay in Uganda is now more dangerous than ever. Today, the country's president, Yoweri Museveni, finalized legislation that would see those convicted of homosexuality imprisoned for life. Simon Lokodo, Ugandan cabinet minister, defends the law.

[Listen 28:38]
Tweets

Heather Badenoch @HeatherBadenoch: What on EARTH is wrong with the Ugandan representative on @cbcasithappens?? Equating homoesexuality to pedophilia? #Ignorance

Cecile Haynes @cashaynes: My gawd, listening to the @cbcasithappens interview with the Ugandan minister re passing of the gay law made my blood boil.

As It Happens @cbcasithappens: Tonight's lead interview with #Uganda minister getting a lot of response. ICYMI: http://bit.ly/Nsl1Rz #LGBT

Lee Rose @thisLeeRose: Unbelievable interview on @cbcasithappens with Uganda's Minister of Ethics re: Legislation banning homosexuality.

lilly @SMarie_Dee: Listening to @cbcasithappens Interview with Ugandan Minister of Ethics and Integrity about new anti-gay laws. Frightening. Absolutely.

Terry Sutton @saltcod: Fantastic interview on @cbcasithappens about the new Ugandan anti-gay laws. Fight ignorance and hate with facts and tough questions.

As It Happens @cbcasithappens: Discrimination knows no borders: two interviews tonight on anti-gay legislation from around the world. #Uganda #Arizona
As It Happens, 2014.02.21:
"Nazi art claimant: With the seizure of dozens of works of art from a German collector, one woman is hopeful she'll once again see paintings that were taken from her grandfather."
Nazi Art Trove, Mossad Passport, South Africa Mine Arrests, The Sound Book, and more

As It Happens, February 17, 2014

A new trove of art suspected of being looted from its original owners by the Nazis prompts the current owner to start a website to show he is open to debate on the provenance of the works.

Nazi Art Trove: Monuments man. After authorities seize hundreds of his paintings, a German art collector's legal team sets up a website to defend against accusations that his collection includes art looted by the Nazis.

Mossad Passport: Cloak and dagger. A mysterious Canadian-Iranian businessman alleges Ottawa issued a passport -- and a new identity -- to an Israeli spy, after he aided in the plot to kill a Hamas leader.

[...]

Comments on this story are moderated according to our Submission Guidelines. Comments are welcome while open. We reserve the right to close comments at any time.

0 Comments

Commenting is Closed